Seuls les 8 principaux nœuds sont présentés ici
Il faut savoir les faire parfaitement
Voir d'une main pour certains, et les yeux fermés
Le noeud de chaise n'est pas indiqué car trop compliqué à réaliser
Nœud de huit
Pour s'encorder en bout de corde, pour réaliser une boucle sur la corde de caravane, pour assembler 2 cordes de même diamètre.
Nœud de cabestan
Ou nœud d'amarre. Ce nœud bloque la corde quel que soit le brin sur lequel on tire. Il est notamment utilisé pour l'auto-assurage au relais. Il peut être fait, et réglé, sans sortir la corde du mousqueton.
Nœud de demi-cabestan
Ou demi-nœud d'amarre. Pour un assurage dynamique (nécessite un mousqueton de sécurité large et symétrique). Il permet la descente en rappel si un descendeur n'est pas disponible.
Nœud de prussik
Comme nœud autobloquant bis-directionnel pour l'auto-assurage lors des descentes en rappel; pour remonter le long de la corde; pour l'installation de systèmes de sauvetage. On le fait coulisser avec la main, mais une traction le bloque instantanément.
Il est possible de faire un prussik avec une sangle fine.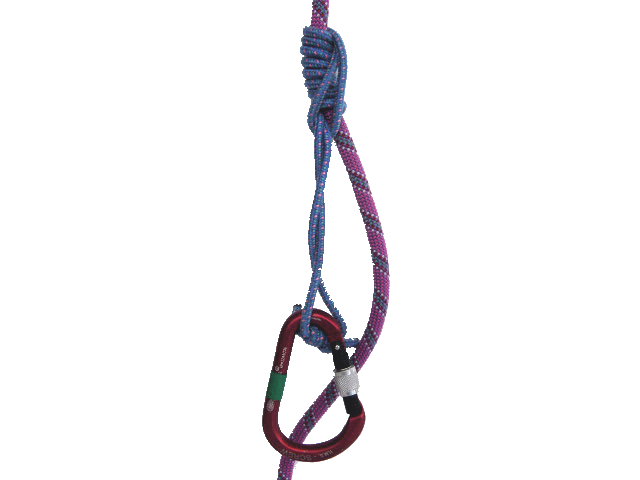 Utilisé comme nœud autobloquant (plus facile à défaire que le prussik suite à un blocage). Prendre un anneau de cordelette. Tenir l'anneau de façon à ce qu'il soit allongé. Placer l'anneau ainsi fermé sur la corde. Maintenir le haut de l'anneau contre la corde avec une main, et avec l'autre tourner la cordelette autour de la corde plusieurs fois. Une fois terminé, passer le bout de la cordelette libre dans la boucle du haut et rabattre vers la bas.
Nœud de pêcheur double
Pour fermer un anneau de cordelette; pour assembler 2 cordes de diamètre différent.
Nœud de pêcheur simple
Pour s'attacher en milieu de corde.
Nœud de sangle
Pour confectionner un anneau de sangle. Prévoir une longueur de brin libre suffisante (10 cm minimum) car il peut se défaire par glissement (surtout avec des sangles neuves).
Idéal pour les sangles plates; difficile à desserrer.
Ne pas utiliser avec une sangle tubulaire !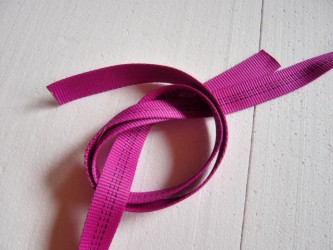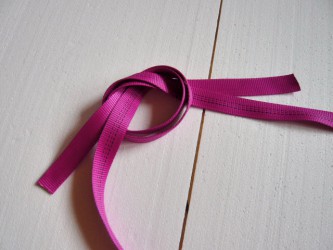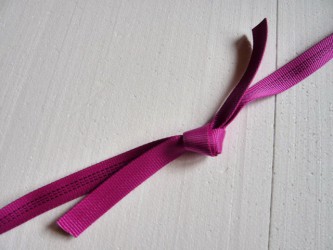 Nœud de blocage ou nœud de mule
Pour bloquer un demi-cabestan au relais, ou en toutes autres circonstances.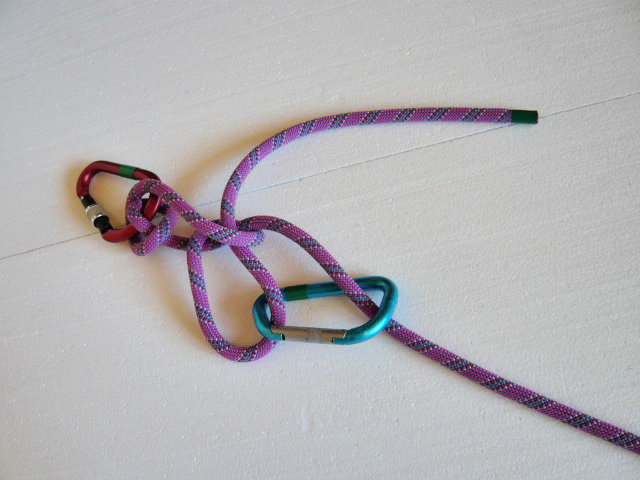 Only the 8 main knots are presented here
You need to know how to tie them perfectly
with one hand for some, and with your eyes closed
The chair knot is not recommended as it is too complicated to tie.
Knot of eight
For tying in at the end of a rope, for making a loop on a caravan rope, for joining 2 ropes of the same diameter.
Capstan knot
Or mooring knot. This knot locks the rope regardless of which strand is pulled. It is used in particular for self-belaying. It can be tied and adjusted without removing the rope from the carabiner.
Half capstan knot
Or half mooring knot. For dynamic belaying (requires a large, symmetrical safety carabiner). Can be used for abseiling if a descender is not available.
Prussik knot
As a two-way self-locking knot for self-securing abseiling; for ascending the rope; for installing rescue systems. It can be slid with the hand, but a pull locks it instantly.
You can make a prussik with a thin strap.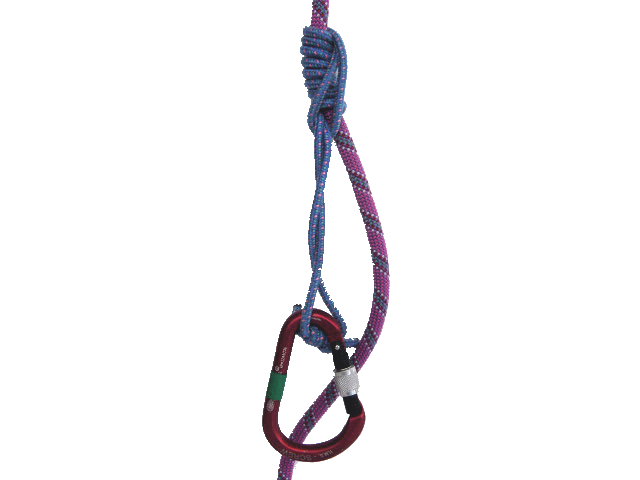 Used as a self-locking knot (easier to undo than a prussik if you get stuck). Take a ring of cord. Hold the ring so that it is elongated. Place the closed ring on the rope. Hold the top of the ring against the rope with one hand, and with the other twist the cord around the rope several times. When finished, pass the free end of the cord through the top loop and fold downwards.
Double fisherman's knot
To close a ring of cord; to join 2 cords of different diameters.
Simple fisherman's knot
For tying up in the middle of a rope.
webbing knot
To make a webbing ring. Make sure there is enough slack (at least 10 cm) because it can slip off (especially with new webbing).
Ideal for flat straps; difficult to loosen.
Do not use with a tubular strap!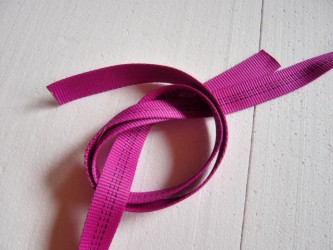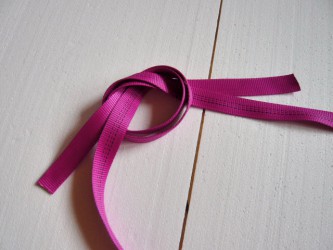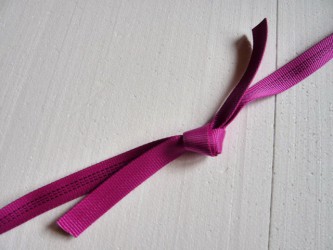 Blocking or mule knot
To block a half-cab at a belay, or in any other circumstances.